potk


Super Moderator/One-Shoe Guru









Registration Date: 04-05-2011
Posts: 359



| | |
| --- | --- |
| Review: Ticklish High School Algebra | |
---
WARNING: THIS REVIEW CONTAINS SPOILERS OF "RAFFAELA OVERDRESSED".

With the first e-comic of 2013 comes the first review of the first e-comic of 2013.



After a minor hiccup that was quickly resolved thanks to fantomaZ, as with all of the stuff that fantomaZ has created, I heavily enjoyed this one. I am very impressed with the amount of amount of laughs that were made both in the e-comic and by me.



The thing that I loved the most about it was how it escalated and grew into something that completely suprised me nearing the end. There were a lot of small touches that I really liked, such as Lorena being tied to the desk, or the SpongeBob graphic inside Jeff's locker. It also has one of my favourite shots/angles that I have seen in any of fantomaZ's comics (see the attachment below).

Of course, this review wouldn't really be worth anything if I didn't say anything constructive for fantomaZ. One tiny qualm I had with the e-comic is that the fun pretty much begins right off the bat. Gabi and Lorena sit down and right on the next page, Lorena immediately gets her shoe stolen. I'm all for getting to the good stuff, but a bit more build up would've been a lot better, especially since the latter half of the story evolves into a gigantic tickle-fest.

Also, on the concept of Lorena, this may be just me, but something about her eyes kind of irks me. Some models also suprised me, such as Elenoar's sneakiness; reading her setcard, I didn't pen her as the sneaky type. I had always had her down in my mind as the slower, more reserved kind of girl (I had always loved Elenoar's leapord flats, too. I hope we see them again.

)

Another thing was that I thought was that since the comic focuses mostly on Lenora, some characters were underutilized. Christine definitely comes to mind; all she does is de-shoe Elenoar, which results with her getting tickled, but that was pretty much it, and hte same goes for Naima. This is one of the reasons why I find it's rather hard to deal with such a large cast; you have to have enough material in order for everyone to shine, and some didn't shine as brightly as others.

All that leads to my final point in this review: Gabi. If you were never able to view the previews in the Member's Section, you wouldn't know that this comic was originally entitled "Gabi's Secret Shoe and Foot Fantasies". With a title like that, I thought that the this would deeply dive into Gabi's one-shoed walk down the other side, and was rather disappointed that it didn't go as far as I had thought. I'm guessing this was the reason why it was renamed to "Ticklish High School Algebra", so I'm heavily hoping that this is explored more in the future, as some of the other previews in the Members Section entail.

All-in-all, this was a very fun ride, and I hope that everything else that fantomaZ is working on will be as fun as this one.

potk has attached this image (reduced version):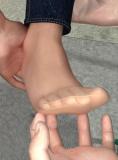 __________________
http://p-o-t-k.deviantart.com/