---
Just messing around with more Photoshop while I recover from my knee surgery and then had to deal with a massive case of writer's block. This kind of helped and hopefully I can get back to the monumental rewrite of my novel, which has taken far, far too long to get done. However the delay may prove very fruitful as I now have new ideas and a way to insert a scene that I always wanted in the novel but could never figure how to put it in, until now. Sometimes you just need an extended break. Anyway, enjoy just a small bit of how I filled the time. I haven't developed a story as to how our poor girl lost her shoe. Suffice to say it was lost on some subway train as she got off and her shoe is now heading uptown, most likely never to be seen again. And now she has only minutes to make her big job interview. Will she have to go to it in only one shoe?

Update: I resized and scaled her better in the scene, plus put her in a pair if nice sheer black nylons with a sexy side slit on her skirt. Looks better don't you all think?

grizzletoad1 has attached this image (reduced version):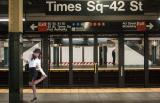 This post has been edited 8 time(s), it was last edited by grizzletoad1: 07-11-2023 19:28.